The Governor's Standard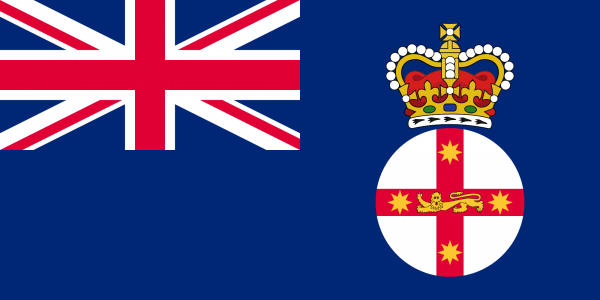 The current Personal Standard for the Governor of New South Wales was adopted on 15 January 1981. It features a blue background with the Union Flag of Great Britain and Northern Ireland in the upper left corner. On the right side is the State Badge of New South Wales comprised of a golden lion passant guardant with four eight-pointed golden stars within the cross of St. George, on a silver disc (reproduced as white), above this is the St Edward's Crown.
The stars represent the Southern Cross and the golden lion and the St George Cross reflect the British heritage of the first European settlers. The St George Cross is also the traditional badge of the British Navy.
The Governor's Standard is flown at Government House and on vehicles conveying the Governor. When the Governor is absent from New South Wales, the Standard on the tower of Government House is lowered until the Governor's return to the State. For more information on the Governor's Standard and its use, see our story Not Your Usual Standard or contact our Protocol Unit on (02) 9228 4111.