Investiture Ceremonies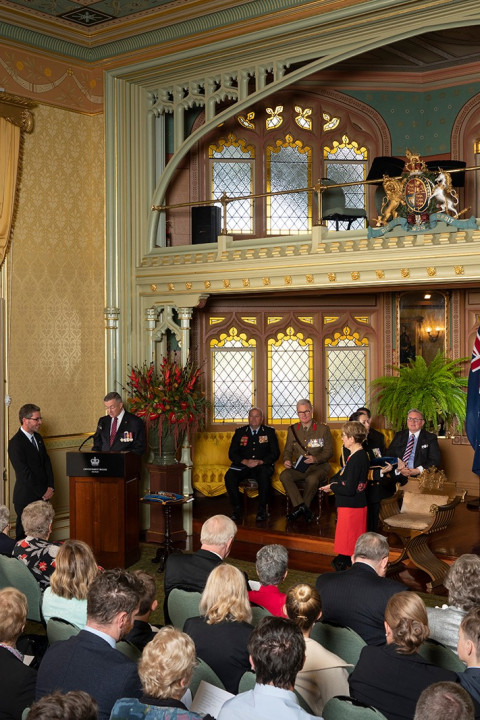 The Governor holds Investiture Ceremonies involving the presentation of honours and awards to citizens of the State of New South Wales included on the Australia Day and King's Birthday Honours lists. Recipients are principally invested with awards under the Order of Australia, but there are also a number of Meritorious Service Awards and Bravery Decorations.
The next set of Investiture Ceremonies are the 2023 King's Birthday Investitures which will be held in September 2023. Invitations will be issued by the end of July.
Frequently Asked Questions
COVID-19
Government House Sydney is an accredited COVID-safe organisation, complying with all relevant NSW Health Guidelines.
Please note that depending on the level of Government advice, entry requirements may change, and/or ceremonies may be cancelled or postponed at short notice. Please check this website regularly for any updates.
When
Ceremonies are held at 10am and 2pm on Investiture days. Light refreshments are served following each ceremony.
Five to six weeks prior an allocated ceremony, recipients will receive an invitation to attend an Investiture Ceremony.
Where
Government House Sydney, Macquarie Street Sydney. Entry is via the Government House Gates, Conservatorium Road (to the left of the Conservatorium of Music).
Arrival
We would ask that you arrive no earlier than 30 minutes before your ceremony start time, and no later than 20 minutes prior to the start time.
Recipients are invited to attend their ceremony with two guests. Details are included in invitation.
It is recommended that guests are 10 years of age or above.
Dress Code
The recommended dress code for Investiture Ceremonies is lounge suit or Service equivalent.
Women: uniform, day dress, skirt and jacket or pants suit (hats and gloves optional)
Men: uniform or suit with tie
Recipients attending in uniform are requested to wear service ribbons only. Recipients attending in civilian attire should not wear decorations. This we hope enables newly invested persons to have their most recent honour prominently displayed.
Other guests are encouraged to wear decorations if applicable.
Ceremony Length
Ceremonies including refreshments are approximately 120 mins in length.
Security
Entry to Government House is by invitation only.
Parking
Car parking is available in grounds of Government House Sydney (booking is not required).
Special Requirements
Please contact us to discuss access for those with accessibility concerns or other special requirements.
Photography
No private photography is permitted during the Investiture Ceremony. An official photographer is engaged to capture all official images and information will be provided to you on the day about how you can obtain copies. You are welcome to take photographs during refreshments.
Live Streaming
Ceremonies will be live streamed via the Government House Sydney website on the Investiture Livestream page.
Inability to Attend
If you are unable to attend following confirmation of your RSVP please advise Government House Sydney as soon as you are able. We will be able to discuss with you alternatives for receiving your insignia.
Contact Details
Protocol Team
Government House Sydney
Macquarie Street
SYDNEY NSW 2000
Phone: (02) 9228 4111
Email: investiture@governor.nsw.gov.au