Investiture Ceremonies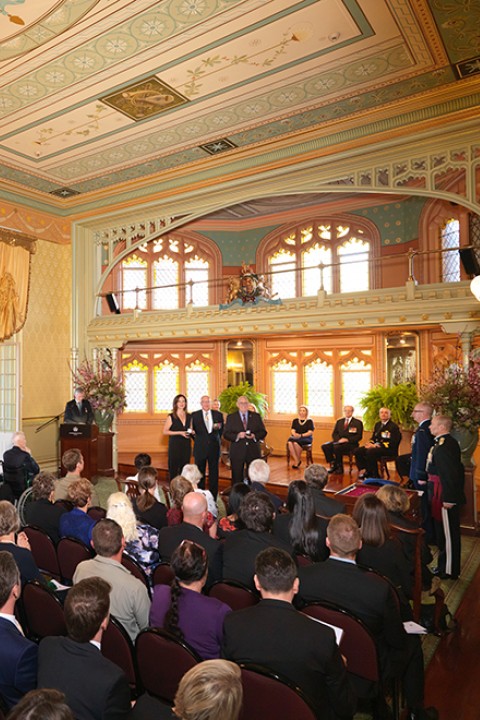 Investiture Ceremonies 
Twice a year the Governor holds Investiture Ceremonies involving the presentation of honours and awards to citizens of the State included on the Australia Day and Queen's Birthday Honours lists. Recipients are principally invested with awards under the Order of Australia, but there are also a number of Service and Bravery awards. 
The New South Wales Australia Day Honours and Awards are presented in May. The Queen's Birthday Honours and Awards are presented in September. Six ceremonies are held over three days on each occasion and are hosted at Government House Sydney.
Frequently Asked Questions
When
Morning Ceremony: 10.30 am to 12.30 pm (Including refreshments)
Afternoon Ceremony: 3.00 pm to 5.00 pm (Including refreshments)
Where
Government House Sydney
A map will be provided with Entrée cards which will be posted two weeks prior to the Ceremony
Recipient Arrival
Morning Ceremony: with sufficient time to be seated by 10.00 am
Afternoon Ceremony: with sufficient time to be seated by 2.30 pm
Guest Arrival
Morning Ceremony: seated by 10.15 am
Afternoon Ceremony: seated by 2.45 pm
Guests
Maximum of Three (3) guests per recipient
It is recommended that all guests are 10 years of age or above
Dress Code
Lounge suit or Service equivalent 
Women: uniform, day dress, skirt and jacket or pants suit (hats and gloves optional)
Men: uniform or suit with tie
Decorations should not be worn by those to be invested but ribbons may be worn by those in uniform
Ceremony Length
Approximately 2 hours
Security
Entry to Government House is by Entrée card only (posted two weeks prior to Ceremony)
Parking
Car parking available in grounds of Government House Sydney (no prior booking required)
Recommend booking taxis (especially for departure)
For public transport information please see Visit us
Mobility Requirements
Please advise Protocol Support Officer if anyone attending has difficulty walking 30 metres (i.e. wheelchairs, walking frames or guide dog etc.)
Photography
No private photography is permitted during the Investiture Ceremony. An official photographer is engaged to capture all official images and information will be provided to you on the day about how you can obtain copies. You are welcome to take photographs during refreshments.
Inability to Attend (2 options)
Roll Over: until next Investiture
Post Out: this will not occur until after the completion of Investiture ceremonies 
Contact Details
Protocol Support Officer
Government House Sydney
Macquarie Street
SYDNEY NSW 2000
Phone: (02) 9228 5890
Email: Investiture@governor.nsw.gov.au