Queen's Platinum Jubilee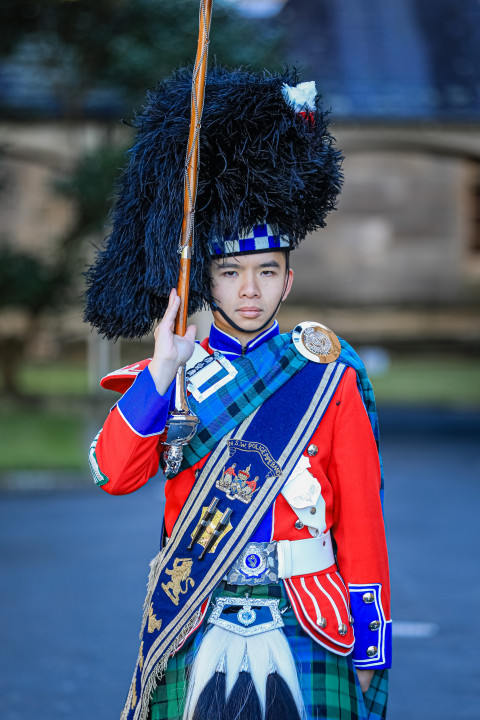 Queen's Birthday Parade
On 11 June 2022, the Queen's Birthday Parade was conducted at Government House celebrating the 96th birthday of Her Majesty in the year of Her Platinum Jubilee.
The Parade's 96-member Royal Guard was an historic tri-service guard comprised of Australian Navy Cadets from 11 units around NSW, Australian Army Cadets including a division from Pymble Ladies College, and Australian Air Force Cadets from three Squadrons located in Greater Sydney.
Music was performed by the Corrective Services NSW Band and the NSW Police Pipe Band. Four horses from the Mounted Unit - NSW Police Force participated and the Royal Australian Air Force provided a spectacular flyover.
QueensBirthday@theHouse
On Sunday 12 June, members of the public flocked to Government House to enjoy QueensBirthday@theHouse. Visitors explored the State Rooms, strolled through the grounds, and enjoyed the music of the Royal Australian Air Force Band. Special displays highlighted Her Majesty's visits to New South Wales.
The House lit in Royal Purple
Commencing 1 June through to 13 June, the southern facade of Government House will be illuminated in 'royal purple' in honour of the Queen's Platinum Jubilee. The House will be lit from 5pm till midnight. Keep an eye out for other significant Sydney buildings and landmarks 'turning purple' during the month of June in recognition of Her Majesty's seven decades of service.
Accession Day Message
See Her Majesty's Accession Day Message here.
Queen's Platinum Jubilee Ceremonial Tree Planting
View the Photo Gallery and read the Speech delivered by the Governor on 5 February 2022.
Governor's Video Message - 6 February 2022
Today, 6 February 2022, marks a significant occasion for all Australians as we celebrate Her Majesty's Platinum Jubilee - 70 years of devoted and steadfast service to the people of the Commonwealth.
In marking this historic anniversary, I was honoured to convey a tribute to Her Majesty during a small, COVID-safe reception.
In her honour, I planted a red oak, a symbol of wisdom, strength and endurance, as part of her Green Canopy program. 
Further celebrations will be held on the occasion of the Queen's 'official birthday' in June.
It has also been a great pleasure for me to extend, on behalf of the NSW community, a personal message of best wishes to Her Majesty, Queen of Australia, to thank her for her peerless leadership, that has marked her 70 years as Sovereign.
The gift from the people of NSW is a bottle of gin, distilled from Australian botanicals, and crafted by the award-winning Joadja Distillery in the Southern Highlands of New South Wales. 
It has been personally delivered to Her Majesty by the NSW Agent-General in London.
It gives me particular joy that this gift's presentation box was crafted by a skilled craftsman from a local Sydney Men's Shed from the wood of an approximately 70-year-old pin oak that had fallen in the grounds of Government House during the violent storms in February 2020. 
It was those storms that helped to put out the severe bushfires of that terrible summer. We remember Her Majesty's warm message of support conveyed to our NSW community during that difficult time.
On the occasion of her 21st birthday, Her Majesty had signalled the life of service which she knew was to follow when she said: 
I declare before you all that my whole life, whether it be long or short, shall be devoted to your service."
That service commenced sooner than expected when on 6 February 1952, Her Majesty, aged 25,  in Kenya and en route to Australia, received the news of the sudden death of her father King George VI. She, of course returned immediately to England.
The warm relationship and ties with the people of NSW, including 16 Royal Tours to Australia, are deeply cherished by our community.
 We honour Her Majesty's dedicated service over seven decades.